Get Your Pre-Christmas Orders in Now!
Get your order in before 10AM Friday 18th December 2016 To get delivery to All Major Metro Areas Before Christmas.*
* Australian Express Post Option Only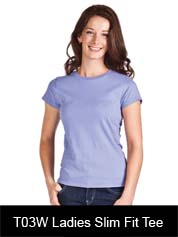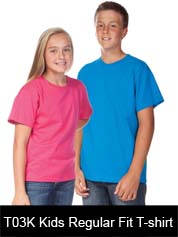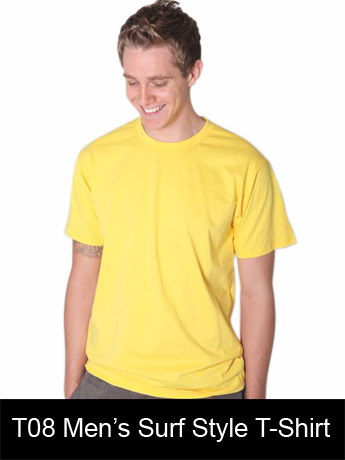 Ladies Slim Fit 100% Cotton T-Shirt
190gsm 100% semi-combed cotton jersey.
Slim Fit.
Companion t-shirt for the Men's Slim Tee.
Ideal for use in retail, surfwear or promotional market.
Ladies Surf T-shirt
100% combed cotton 190gsm. This means soft to the touch.
Quality Ladies Crew Neck Surf Tee.
This comfortable and stylish surf tshirt perfectly complements with Men's Surf Tshirt.
It is suitable for everyday wear to anywhere you like, whether on the street and the beach.
This product is especially good for DTG Digital Printing.
Ladies Fashion T-Shirt
A Ladies Fashion Tshirt with 100% soft cotton 150gsm.
Ladies Trend 100% Cotton T-Shirt
Slim fit.
150gsm 100% fully combed cotton jersey.
Lightweight, firm and smooth - cool shirt to wear.
Great summer colours - bright and bubbly.
Comfortable scoop neckline - great looking.
Ideal for use in retail, surfwear or promotions etc.
Cool colours and cool to wear, this lightweight tee will fit the bill exactly.
Kid's Regular Fit 100% Cotton T-Shirt
190gsm 100% semi-combed cotton jersey.
Regular Fitting t-shirt
This garment has a High UPF factor.
Great for child care centres, pre-school, school promotions, kidswear etc.
Kids Surf Tee

190gsm 100% Combed Cotton T-Shirt.
The combed cotton means a softer touch, and a better Digital print.
The t-shirt is comfortable, and stylish for kids tee.
The Kids Tee matches the Mens and Ladies Surf Tee.
Do not let the name fool you - it is not just for wearing at the beach, but the street, school, performance or any event.
Men's Slim Fit T-Shirt
This is a quality Men's Slim fitted Tshirt
It's made from 200gsm 100% combed cotton jersey and has a lovely thick smooth hand feel
The fabric has been Pre-shrunk for great wash-ability.
The combed cotton surface is very soft and smooth which make this garment very printable. Printing with either digital and screen printing techniques will give superb print results.
This product comes in a massive choice of colours.
Long Sleeve Regular T-Shirt
Quoz men's Long Sleeve Reflect Tee.
This garment has qualities of a Regular loose fit style with a Pre-shrunk Fabric.
Made from 200gsm 100% combed cotton jersey and prints well in both popular printing methods.
It is also the only long sleeve product that has no cuffs -just an open ended sleeves, that's absolutely easy to wear.
Occasionally, there are some twisting after some washes.
Though it washes reasonably well and is very colour fast.
This long sleeve product is a great value for money, all round.
Men's Surf Style T-Shirt
This garment has features of a 190 gsm 100% combed cotton.
Considered as a Quality Men's Crew Neck Surf Tshirt that's comfortable and stylish.
Suitable for your everyday wear, whether on the street, beach or any place you like.
DTG Digital printing especially goes well in this garment.
Men's Trend 100% Cotton T-Shirt
Lightweight Slim Fit Fashion Tee
150gsm 100% combed cotton jersey.
Comfortable fine knit neckline
Fashion and retail quality t-shirt
Mens Fashion Tshirt
This garment is 100% soft cotton 150gsm that is considered a fashionable fit.
The combed Cotton does translate into a good Digital print, and this style can be worn out on a date, out to the beach, or everyday.
Men's Modern Fit 100% Cotton Base T-Shirt
Smooth and soft Ring Spun Cotton Finish, with Modern Fit.
180 gsm, with Tear away label.
Men's Regular Fit
Narrow and sturdy neck rib - Designed to stay in shape.
An excellent all round t-shirt.
** Please Note - this product is being run out - as we are not happy with the current printing results onto black, and the overal quality of White and Black colours.
The Colours still seem ok - but - we have added another product that offers superior printing quality.
Please see: "Men's Surf Style T-Shirt"
For White and Black: You can use another new product: the "Men's Modern Fit"
You will enjoy a discount on the "Men's Regular Fit" stock we have left!